*This post follows this earlier post about deity conceptualization.
I recently read Paganism: An Introduction to Earth-Centered Religions, by Joyce & River Higginbotham. The book is so straightforward and easy to read. It is designed as something of a workbook to help you think through your current belief systems. Its aim is more to assist you in exploring and thinking about your own spiritual beliefs, rather than teaching about Paganism. The two chapters that I found most helpful were "A Pagan View of Deity" and "What about Satan?". If you can't buy the book, I would recommend getting it from the library and reading a few of the chapters if you are interested. It comes across as a 'beginner's book', but their approach is very unique and great for fueling discussion or thought processes. I will highlight some of the material from their chapter about deity conceptualization…
The search for the Divine in its simplest terms is the search for that portion of the creative universe that intersects with you personally. It may be the portion from which you believe you spring, to which you feel the most drawn, or to which you feel the most directly, personally and intensely 'plugged in'. Since this point of connection is uniquely personal, descriptions and experiences of it are naturally going to differ". (p.79)
The authors quoted a beautiful passage from a book called "The God of Jane" (a book I would really like to read). Jane writes about discovering that portal to the divine through deity…
…when I use the phrase "the God of Jane," I'm referring to or trying to contact that portion of the universe that is forming me – that is turning some indefinable divinity into this living temporal flesh. I'm not trying to contact the God of Abraham, for instance, or the Biblical Christ, or the inexplicable power behind all of reality. My intent is more humble than that, more personal, more specific: I want to contact that tiny portion of All That Is that forms my image, that transforms itself or part of itself into my experience… (p.97)
To help you reflect and become self-aware of your personal point of connection as Jane did, the authors employ the use of the God map in the book which I thought was brilliant.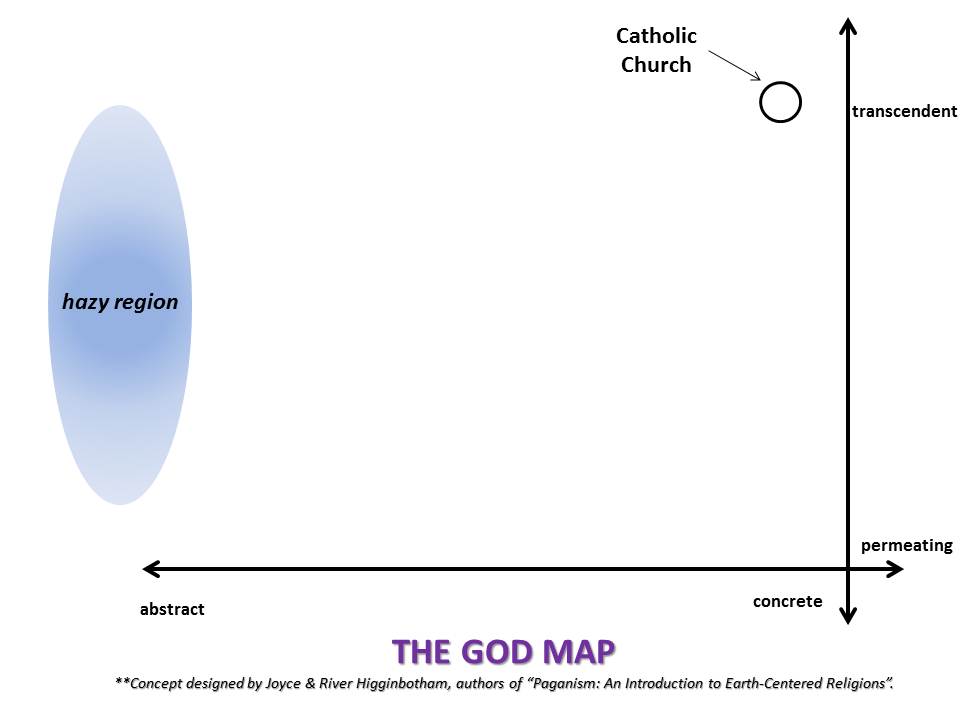 I want to clarify that the map accomodates monotheism (belief in one god/goddess), polytheism (belief in multiple gods/goddesses), pantheism (the belief that the deity is distributed among every part of the universe – the cosmos particles combined equals deity), and animism (everything in the universe has a soul and is a spiritual being – although not necessarily a deity divided into parts as with pantheism). The word 'deity' and 'god are used in this blog post in a very broad sense. Rarely will I use these words to refer to a singular 'god figure', although it may sound like that at times due to the limitations of language. Deity and 'god' represent spiritual ideas and conceptualizations  – focal points for spiritual journeying.
Transcendent vs. Permeating (Immanent)
If a deity is transcendent it is completely above and beyond us as a unfathomable being who functions independently from its creation. A wholly transcendent deity is difficult to access directly. Typically a mediator of some sort is required. The authors positioned the deity of the Catholic Church on the God Map as being very transcendent. Access to the Catholic god can be difficult without a priest, pope or saint interceding for you. The hierarchy of the Catholic Church emphasizes the distance between deity and human. The Islamic deity could also be interpreted as being primarily transcendent. Many denominations of Christianity emphasize god's transcendence, and also his immanence through the Holy Spirit and Jesus' death on the cross which supposedly made the Christian god more directly accessible by bridging the deity-human divide caused by sin. The very popular 'bridge illustration' used to convert unbelievers demonstrates this principle (this makes me cringe now):
Rather than being distant and inaccessible, a permeating or immanent deity is one that draws so close to its creation that it often is part of creation in some way; it permeates it or dwells inside of it. For example the deity of a pantheist would be positioned near the permeating end of the continuum. Christians often speak about the 'indwelling of, or being filled with the Holy Spirit' where Spirit is invited to enter and 'live in' a believer. Perhaps some versions of the Christian god maybe positioned between transcendent and permeating depending on what characteristics of the Christian trinity the believers focus on. I grew up with a very immanent version of the Christian deity with a heavy emphasis on the Holy Spirit figure of the trinity.
Concrete vs. Abstract
Concrete deities are conceptualized with very clear images and stories. The god I once believed in was a concrete deity for example. Concrete deities usually have familiar human or animal characteristics and behavior (referred to as anthropomorphic deities). The Higginbothams refer to an abstract deity as one that "will not be described as a being and will not be assigned physical characteristics and emotions… Some people with abstract images see Deity as energy, spiritual force, or movement perhaps similar to the concept of the Holy Spirit, or described as Love, the Life Force, or the Ground of Being. The 'Force' of the Star Wars movies fits here" (p.84).
The Hazy Region
The authors describe this region as the place where "abstraction blends into unknowing, and perhaps, unbelief" (p.84). They position some Eastern systems in this area of the God Map (such as the Tao of Taoisim) as well as the conceptualizations of those who use the phrase 'All That Is'.
Blended Ideas
Blended ideas related to deity (or experiences of the divine) fall at various points along both continuums. The authors do a great job at discussing some of these blended concepts. I will try to briefly summarize here…
Collective unconscious – "A memory bank of [all] lived experience that exists, according to Jung, in realms beneath [every one's] normal state of waking consciousness" (p.86).
Archetypes – "an essence of lived experience that has recurred so frequently in human history that it develops an energetic 'signature' or 'presence', and may act as a blueprint for behavior[ie. the archetype of the Hero]… Archetypes might be visualized as energetic data banks within the collective unconscious, which may have been infused with so much energy over time that they exist as independent entities" (p.86).
Morphogenetic field – "…living matter interconnected by fields that transcend space and time… Pagans often refer to the energies that build up in certain objects or places due to the focusing of thought and intention over a period of time, as energy fields… Over time, this energetic intensity builds until it is quite palpable, and again, in some instances may even seem to take on a life of its own" (p.86). [ie. Sacred places in the world where people have gathered throughout the ages to worship a deity, etc.]
Thought form – "When a Pagan uses this term, he or she is referring to an energy being or force deliberately fabricated by those creating it. From the Pagan perspective, the thought form is a great example of how concentrated thought and intention can, by itself, create an apparently independent being. Thought forms are temporary energetic structures created for a specific purpose… If the form is not dissolved, or if the persons creating it are not aware they created a thought form and so continue to send it energy, then the thought form may continue on as an independent or quasi-independent force or being. What would be the consequences if an entire culture either accidentally or deliberately created a thought form and then supported it energetically for generations? What if they named this thought form God, or Satan?" (p.87).
Whoa.
I will be thinking about that last idea for a while.
One of the most important points made in the book: "When it comes to God, religions often get into trouble by stating that a particular idea about God actually is God" (p.76). Whether one holds to an idea of a transcendent concrete deity, or a permeating abstract deity… they are all just ideas. Our 'personal point of connection' or 'portal to the divine' – an individualized conceptualization of deity that can function as a spiritual tool.
_______________________________________
The book chapter ended with a number of thought provoking questions (p. 88). You had a glimpse at what some of my answers to these questions would be… how would you answer these questions?
• What parts of the God Map do you find the most interesting? The most difficult? The most disturbing? Is there any part of the Map you don't like or understand?
• Have you experienced change in recent months in terms of where you are on the God Map? If so, in what ways and why?
• Where do you think your friends, family, neighbors, and coworkers would fall on the God Map and how would they react to other positions on the God Map? How would they react to Paganism's flexibility concerning Deity images? Do you think Paganism's flexibility on this issue is a good thing?
• Have you had a spiritual experience you find difficult to understand or describe? What happened in this experience? Describe your experience from each of the perspectives of the God Map: from transcendent to permeating, concrete to abstract, to blended? Do you find this difficult to do? Does the nature of the experience seem to change or feel different depending on which perspective you use to describe it? Which of these perspectives are you most comfortable with? Which are you least comfortable with and why?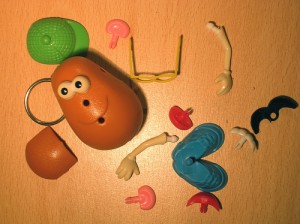 • If you could design your own deity, what would it be like? What qualities would it have? What kind of relationship between you would be possible?
Joyce & River Higginbotham advise:
Mark your own spot on the God Map. Put this paper where you meditate or hang it up at work. When you have free moments, study your drawing… Now go exploring – Go sit on other places of the God Map and check out the view. (p. 96, 99)
I have wanted to write a blog post on this topic for quite a while now. It was helpful for me to summarize these ideas and lay them out. The Higginbothams are the only authors I know of who have dealt with this topic and these questions in a way that helped to clarify my thinking.
I likely won't stick with 'Ernie' (concrete / somewhere between transcendent and permeating).
I think I'm still exploring the God Map.
(Photo credits: the Force, Bridge 1, Bridge 2, Mr. potatohead)